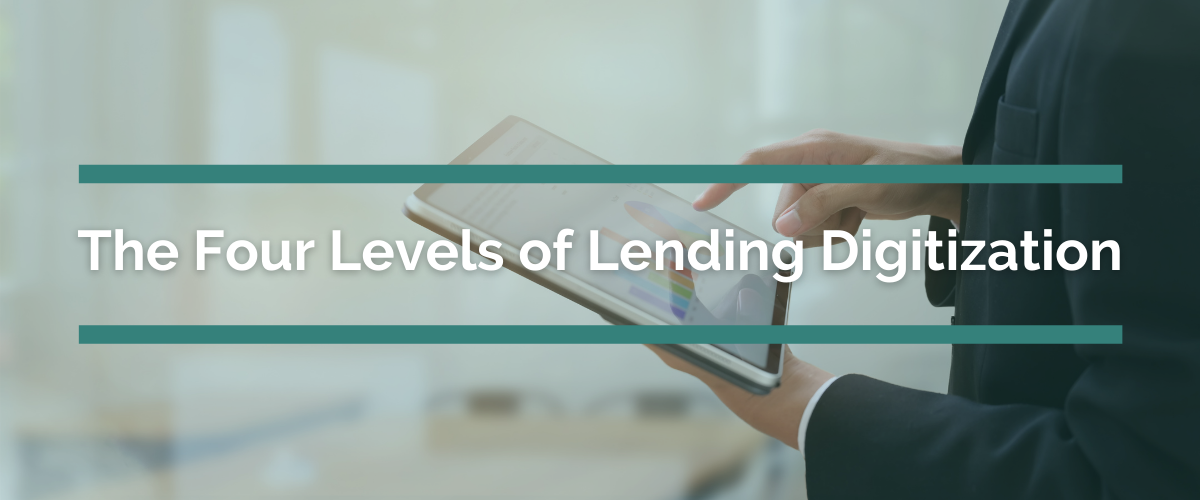 Written by Jeff Keltner
I've been thinking for a while now about trends I see towards digitization of the lending experience. Indeed, with Covid-related restrictions to branch openings and individuals' apprehension to step into a branch, I know many banks are accelerating their plans to invest in systems and digitize the lending experience. I have seen the banks move towards digitization via a variety of paths. Some banks are taking a methodical series of steps to progress towards full automation, while other banks are more ambitious and leapfrog to the highest levels of automation.
With each level, there are different degrees of investment required in terms of systems and internal resources. And with each stage, lenders can expect to impact the customer experience, and their performance, to different degrees.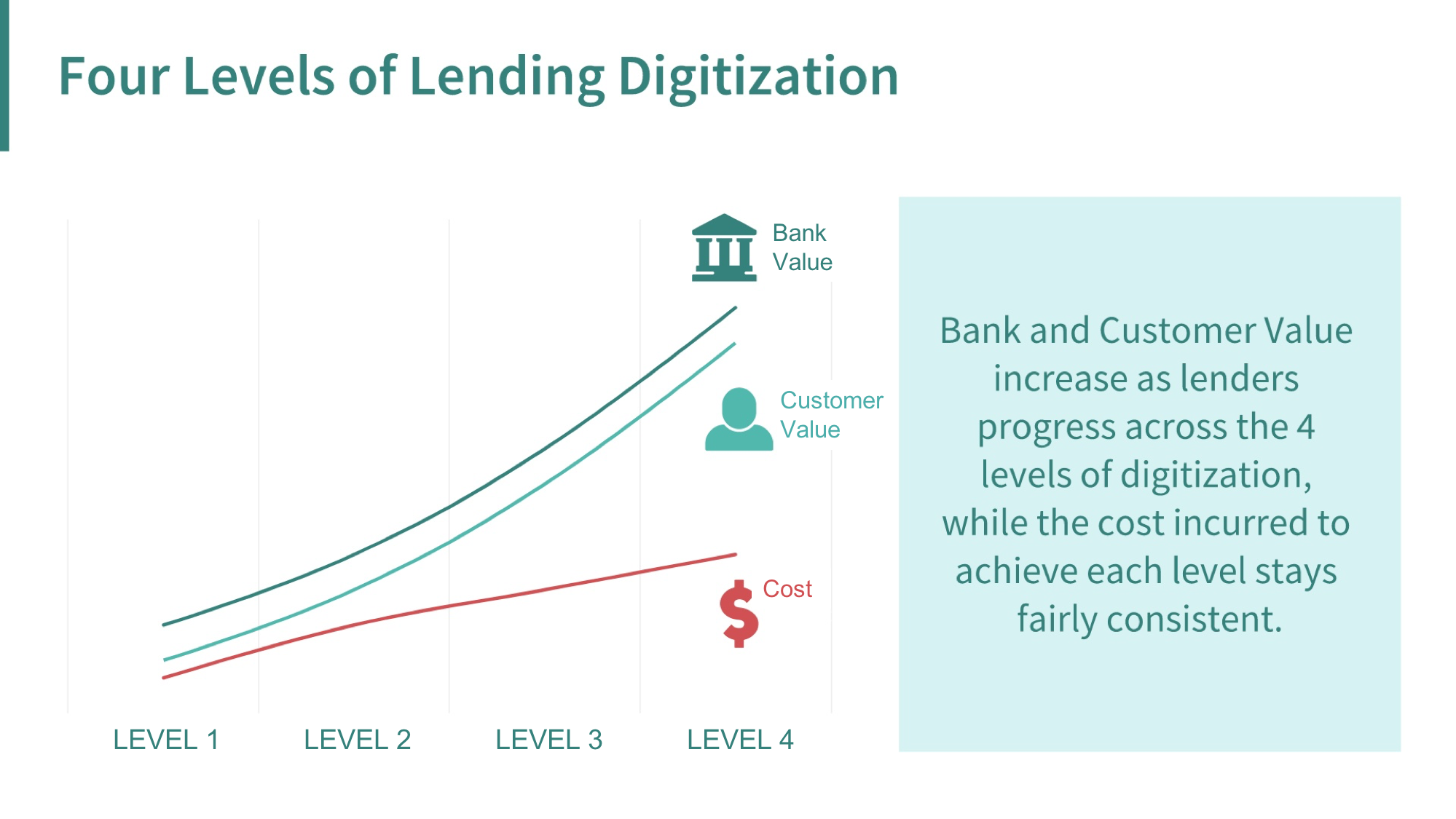 My goal in providing clarity on these levels of lending digitization is to help others learn from some of our experiences at Upstart and in the technology industry generally. But, if I had to leave you with three core principles for accelerating digital lending transformation, it would be these:
Look through the lens of the actual consumer experience;
Avoid the trap of just digitizing your existing manual origination and underwriting processes;
Use digital lending strategically to help grow your existing household relationships and expand into new households in your bank footprint.
Level I - The Digital Entry Point
The first level of moving any process online is typically to build a digital front-end for the consumer experience. As this process begins, digitization usually doesn't flow through the whole process. In lending, this often means an online application triggers an offline follow up through a phone call or in-person visit. Many lenders have already achieved this level of digitization (though certainly not all lenders, and not for all of their product offerings).
This is a great first step away from manual, in-person lending, but consumers now expect a completely digital, end-to-end experience. Starting online and then being asked to make a branch visit or a phone call can be frustrating—and often leads users to walk away. When I fill out an application, why do I have to wait to see if I qualify for credit? And if I do see an immediate offer, why can't I accept it immediately? While consumers have traditionally had some tolerance for friction in more complicated businesses like lending, this will wane over time as consumer experiences from other parts of their lives impact their expectations in the lending process too.
Level II - Digital Workflow
In the second level, lenders have moved from an online application that kicks off an offline process to a fully digitized, end-to-end process. However, those processes are often more or less carbon copies of the old, offline processes. For example, these digitized processes still typically require a manual review of underwriting and having applicants upload multiple documents such as photo IDs and pay stubs that otherwise might have been given to a loan officer or underwriter in person. The uploaded documents are then manually reviewed by a bank employee in an office—largely replicating the in-person branch experience. This often results in a slower time to originate a loan, as the manual back-end processes take time—and again can lead many users to simply abandon the process. I sometimes refer to this process as the digitization of legacy processes.
This is the phase I see many lenders currently in or entering into today. Getting to this phase is a lot of work and generally involves a significant technology investment. It provides an entirely digital process for all customer interactions, which is a huge improvement. However, it is not the end of the journey. A fully digitized origination process is a first step that unlocks the possibility of fundamental improvements to the process itself.
Level III - Automated Decisioning
In Level III, you are not only looking to migrate your existing front-end processes to a digital interface—you are finding ways to transform the approval and closing process to take advantage of uniquely digital capabilities for both your customer and your employees. Let me provide two specific examples:
First, a fully automated process should enable instant underwriting decisions for all applicants—ideally using a soft credit pull that won't hurt their credit score. Once you've begun using automated decisioning that can process large amounts of data, there's little reason to have underwriters look at exceptions to policy based on "compensating factors". Those decisions can be automated—and improved—with newer technologies. This can lead to faster decisions, better credit results, and happier customers.
Second, the full approval and closing process can often be simplified in a digital environment. Verifying identity through the presentation of an ID, or income through the presentation of bank statements, often makes sense. However, it is now possible to improve and, often, fully automate these verification processes in an online context leading to increased close rates and potential for lower loss rates.
Level IV - Intelligent Decisioning
Beyond Level III, lenders have the ability to further improve outcomes by leveraging advanced technologies like machine learning to drive better decisions. This allows lenders not only to automate their older processes, but to dramatically improve them with further advanced analytics. Banks who take advantage of these technologies unlock the opportunity to expand their loan portfolio with their existing customers and also attract and grow new households—without increasing their portfolio risk.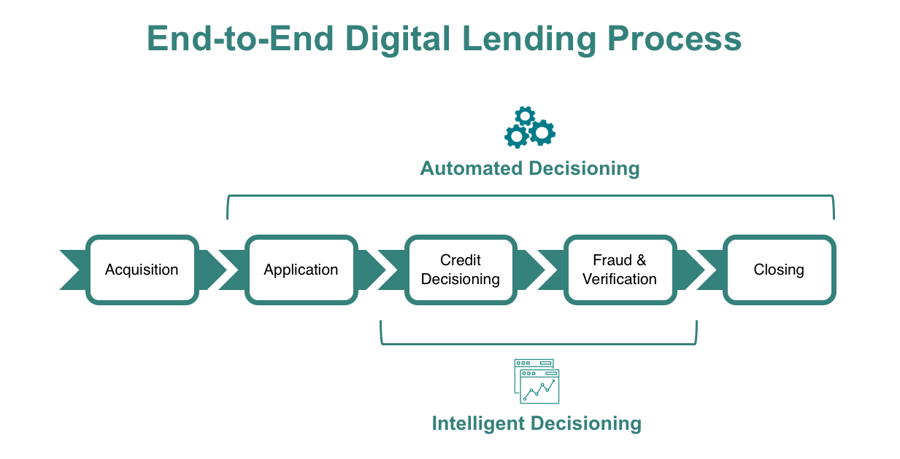 For example, most lending decisions (even automated ones) rely on traditional score cards centered around a handful of metrics like credit score and debt-to-income ratio. The analytics and automated decisioning now available to banks helps to move banks beyond simple credit scoring to consider thousands of additional data points in their credit decisioning—leading to greater approvals without increased risk. Further, applying analytics to fraud and verification opens the opportunity to automate an even greater share of decisions by removing manual documentation requests and reviews—leading to faster close times, happier customers, and a larger portfolio.
Conclusion
Determining the right next steps on the journey to a fully digital experience is top of mind for every lender I've spoken to recently. Now more than ever, they realize the importance of allowing their customers to interact with the bank digitally. However, to realize the full benefits of a digital transformation, you also need to automate and often rebuild the underlying processes to take advantage of those digital capabilities. The banks who are able to do so effectively have the opportunity to grow and take market share from those who don't.