Leaders in Lending | Ep. 27
Education Loans and Credit Unions: LendKeys' Partnerships Approach
Vince Passione, Chief Executive Officer and Founder at LendKey, joins the show to discuss how his company saw this emerging need in the market and how they work with credit unions to digitally originate and sell in-purchase loans for education among other verticals.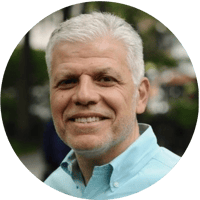 Vince is the founder and CEO of LendKey, the market's most advanced lending platform and network, and a veteran technologist for financial services companies. Before LendKey, Vince was the COO of DealerTrack, the nation's first and largest automotive credit portal. He has also been the President of Ameritrade's Institutional Client Division, the CEO of OnMoney.com, the CTO of Citigroup's US Consumer Bank and a Business Unit Executive at IBM. Vince received his B.S. from Polytechnic University.

LendKey is a lending platform and online marketplace that allows consumers to apply for and receive private student loans, student loan refinancing and home improvement loans from their local credit unions and community banks. They have
deployed more than $4.1 billion in lending capital and serviced more than $2.1 billion in loans on behalf of hundreds of banks and credit unions. In all, more than 120,000 consumers have had their financing needs met through lenders that partner with LendKey.
Starting out in educational loan refinancing

The trend towards unsecured loans for home improvement

What's coming in the auto finance space

Working with regulators early and often

The 2009 recession discouraged financial institutions across the nation to lend money to millions of borrowers.

Vince Passione saw it as an opportunity to service the populations left hanging by the financial institutions they trusted and provide accessible, affordable loans.

The first population he needed to help?

Students.

On this week's episode of Leaders In Lending, we are joined by LendKey's Chief Executive Officer and Founder, Vince Passione to discuss how the Fintech company got their footing partnering with credit unions to provide education loans during a time of financial distress and venture into the world of in-purchase loans.

The Recession and Credit Unions

After the 2009 housing bubble burst and sent the country into a spiralling recession, many lenders were naturally hesitant to open big loans with those most in need.

What many saw as a high risk, high stakes bet, Passione saw as a chance to support those most in need.

Credit unions were among the least tapped financial institutions—with a vast majority of its customers aged fifty years and up— that could provide easy financial aid at a lower interest rate.

The gap in the market made it clear to him that he needed to found a company that would partner with credit unions and bring services to a whole new demographic in an unprecedented time.

Education

When lenders suddenly exited the 2009 market, many students were left without the money they needed to attend school and also pay off the debt with high interest rates.

Introducing students to a community-based financial institution—one that would give them lower interest rate options and easy-to-access loans—would inevitably proliferate their business.

Acquiring young members, as LendKey proved, could eventually sway multi-generational households and drive exposure across campuses and affiliate channels.

With a newer, wider consumer base, LendKey was able to expand operations and delve into the most needed, highly sought-after service at the time—unsecured home improvement loans.

Home Improvement

If home improvement loans were in high demand then, the Covid-19 pandemic multiplied the need.

As more and more people moved out of the cities and began purchasing property, home improvement with financial restrictions became a priority for new homeowners.

LendKey's defining attribute was being perfectly positioned to help contractors secure business with quick, digitized, in-purchase loans.

"It's being driven by the demands of contractors who are out there and merchants who want to turn around and know that at point of sale, they can get quoted on a rate," claims Passione, "That 'buy now pay later on it affects the purchase price".

Expediting the bidding processes has not only helped contractors and merchants make faster sales, it's empowered borrowers to make smarter and safer financial decisions around their property.

After mastering the art of the quick in-purchase loan, LendKey has turned their sights to another high-demand, fast-changing industry.

Automotive Finance

As the world becomes more and more digital, dealerships are beginning to realize that the brick and mortar showroom is getting dated. With customers making many of their buying decisions online and showing up in person solely to test drive, it's become important to influence an on-the-spot purchase.

Dealers are able to provide appealing, low-interest loans that ultimately save the customer money and allow them to reinvest that money in something valuable such as a warranty.

For credit unions, emerging trends point to a secure future in supplying auto refinancing loans as consumers are paying more attention to their current interest rates, while also holding on to their vehicles longer.

Fintechs like LendKey are helping community-based institutions identify and tap into quickly-evolving markets and expanding their products to get real help to borrowers who need it.

The takeaway from all of this? Partnering with credit unions is the future of Fintech.