Leaders in Lending | Ep. 03
Consultative Conversations: Bringing Humanity Back to Banking
On this episode of Leaders in Lending, we sit down with Robert Perrelli. Robert is a Senior Vice President, and Head of Product and Consumer Lending at TCF Bank to discuss building genuine connections with customers in the digital age.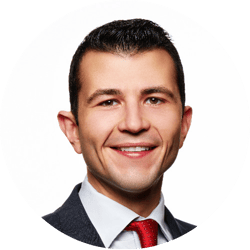 Robert is a Senior Vice President, and Head of Product and Consumer Lending at TCF Bank. He has been at TCF for nearly 12 years running finance strategy and operations, consumer corporate strategy, and now leads product and consumer lending. His philosophy of work is rooted in a long-standing principle of serving the customer's needs while incorporating personal human touch to connect to the customers and their community.

TCF Bank is a premier Midwest regional bank headquartered in Detroit, Michigan, The company has ~$16 billion in assets and offers consumer and commercial banking, trust and wealth management, specialty leasing and lending products and services to consumers, small businesses and commercial clients. TCF is joining Huntington Bank, sharing an operating philosophy that focuses on building stronger communities and striving to help customers achieve their financial goals.
The importance of "consultative conversations" with your customers

How to shift your mindset from being "product centric" to "consumer centric"

How a relentless focus on customer service changes the branch employee interactions

Getting buy in from bankers on digital products
Shifting from Product to Customer
While banks are certainly product focused, the business should be all about the customer.
Every decision you make should start with identifying how the customers like to interact with your team, what types of customers you have, what their needs are and how they prefer those needs to be met.
While you're obviously going to remain focused on your products, like checking, savings, auto loans, marine loans, installment loans, etc., you can do so in a way that places the customers at the very center of every decision you make.
So how do you begin to shift that mindset?
A New Mindset
It may sound overly simplistic, but start at the beginning.
Meaning, remove all biases and preconceived notions of what a bank is SUPPOSED to be. How a bank is SUPPOSED to act or operate, and take a step back. Ask questions, and put yourself in the customer's shoes.
You have a need, and you need someone to fill that need. It's really that simple. A customer has a financial need, and they are looking for someone to help fulfill that need. Whether it's a loan, a savings account, or a mortgage. It's a journey map.
The magic is when you make the connection between the product that is being offered, with the need, and the story that is behind that need. Because everybody has a story. It's just a matter of listening to their story, and having the right solution to help them along their journey.
Consultative Conversations
When someone walks into a bank branch, they walk in with a very specific need. Your bank isn't a shopping mall. Nobody is coming in to browse. They're there for one thing.
And it's your job to help them along that journey.
As previously mentioned, we all have a story.
Maybe someone is coming in to open a savings account for their daughter. So you take the time to get to know their story. You ask questions. You guide them through the process.
Come to find out, they're opening the account because their daughter is saving up for her first car. It's an exciting time, but also a nervous one. It's their first daughter and they've never had to teach a kid how to drive before. Plus there are a lot of emotions that come with that journey.
At the end of the day, you've offered the exact same solution as if they'd opened an account anywhere else, but the journey was different. Like Robert said earlier, the goal was not to get to the end. The goal was to write the next chapter.

And you helped them do that.
Banker Buy-In
As you drive that relentless focus on the customer, it's likely going to mean more digital solutions. The world is an increasingly digital place, with more and more happening online. From loans to payments to check deposits, our phones have become our de facto banks.
But we still need the bankers. We still need them to be putting all their effort into the customers.
And what better way to do that than eliminating all the "non-value added processing" required from their jobs? To spend less time typing, checking account status, and moving papers around.
And spend more time having those conversations. Listening to those stories, and helping the customers along their journeys. That's when they get to have those consultative conversations, and really make a difference in someone's life.
Even if just for a moment.