Leaders in Lending | Ep. 60
Building Systems Around Member Experiences to Retain Loyalty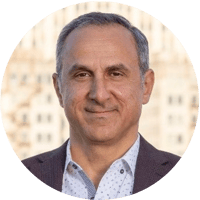 Rick Jarrar oversees the lending strategy for Kemba Financial Credit Union. Jarrar has more 20 years of banking and lending experience including consumer, mortgage and commercial lending. Jarrar holds a bachelor's degree in Engineering from San Jose State University and served on the Board of Directors of the Placer Food Bank in Roseville, CA. Throughout his long financial services career, he has enjoyed meeting the many needs of clients and members to help them access the resources needed to achieve their various life goals.

Kemba Financial Credit Union
Founded in 1933, the 87-year-old Columbus-based credit union serves more than 100,000 members. They are continually recognized both as a statewide and nationwide leader in the Credit Union industry. Their mission lies in enriching the financial lives of their members and associates with passion, empathy, and integrity.
How to gain and retain member loyalty
The evolution of the branch from transactional to advisory services
The surge in BNPL payments and its impact
The applications of cryptocurrency
Member loyalty isn't what it used to be.
Once upon a time, loyalty was the product of proximity, or due to a family or friend recommendation. But loyalty has changed. It's gone from loyalty to a provider, to loyalty to an experience.
On this episode of Leaders in Lending, we sit down with Rick Jarrar, Chief Lending Officer at Kemba Financial Credit Union.
Gaining and retaining member loyalty
The drivers of member loyalty in banking are shifting. In the past, loyalty was a matter of location or referral. Members chose financial institutions that were close by or asked friends and family for their opinion on where to bank.
In a sense, the referral aspect still exists today. However, the core idea of loyalty has evolved. Today, members aren't loyal to a service provider; they're loyal to an experience.
What does a great customer experience look like?
Think of a company like Amazon. Although their prices aren't the lowest, they're still the king of eCommerce because they provide an easy, streamlined customer experience for every customer, every time.
Consumers can easily search for what they want, buy it in just a few clicks, track the shipment in real-time and if it's not quite what they're looking for, returns are as simple as dropping the product off at a UPS store.
Frictionless interactions are the key to exceptional customer experiences in banking too. Consumers no longer want to fill out an application with 45 fields just to get a personal loan or a car loan. They want simplicity.
Evolution of the physical branch
What role does a physical branch play in the modern era?
Some people say branches will disappear as digital products and services take over. But digital-only isn't the way to go, according to Jarrar.
"You've got to go digital-first, but you have to augment it with the human touch," he says.
Jarrar brings a unique perspective to the topic. While living in Europe, he worked for a bank that experimented with the idea of a completely digital branch with no human interaction. It contained state-of-the-art ATMs that could print checkbooks and issue cashier's checks and used iPads for any other banking needs.
"That was not enough," he says. "We found that at some point, we had to put at least one employee in there who could answer questions."
Branches will continue to serve a purpose, but that purpose will simply need to evolve.
For Jarrar and Kemba Financial Credit Union, that purpose is consultative in nature. It provides a way for the credit union to offer one-on-one consultations on the best products and services for their members.
But for other financial institutions, that purpose might be different. It all depends on the consumer trends and market needs in the area. Some locations might choose to have smaller branches. Others might choose to have a larger footprint complete with a community center.
"The key is to identify what your market needs are," Jarrar says, "and once you've figured out your market needs, then you should be agile and flexible enough to give members whatever they need."
The surge of BNPL payments
In America this year, it's expected that $49 billion in eCommerce sales will flow through BNPL. In 2028, it's expected to be $400 billion. The impact of BNPL is even further along in Europe where 25 percent of Finland's population and 20 percent of Germany's population make eCommerce payments through BNPL.
"People like BNPL for a lot of reasons," Jarrar says. "Number one: It's convenient. It's easy. All you have to do is click a button and you're done."
There is a danger though that it encourages consumers to take on payments that they cannot afford. It's one reason why Jarrar believes that credit unions should offer personal loans.
"BNPL is a very popular product for Gen Z and millennials," he says. "So, we've got to address it."
Applications of cryptocurrency
According to Jarrar, crypto is here to stay. However, the way in which it's regulated will change—and that will enable financial institutions to help consumers do more.
As it stands now, credit unions are still reluctant to enter the crypto space.
"One of the things that still hold us back is that a lot of people are still not sure what crypto is," Jarrar says. "They're still not sure how to make money on crypto, how to invest in it, and we're still reluctant to put members in that position."
As crypto gains broader acceptance, though, Jarrar believes that credit unions will have to adopt and offer it. When that day comes, he envisions a few ways that credit unions can integrate crypto.
"If we were to use crypto today, we would do it in the exact way that we allow them to buy stocks currently," he says. "You can buy a stock and you can use that stock as collateral for a loan."
He also envisions a world where members can buy crypto through credit unions via a partnership with a Coinbase or a Robinhood.
Once regulation comes to crypto, the potential use cases are endless—and that excites Jarrar.
"Wouldn't it be nice to have a consumer make a payment on their loan with crypto? I think that would be an absolutely awesome thing to see."