Leaders in Lending | Ep. 25
Modern Differentiators: Exceptional Experience & Relationship Management
Richard Wada, Chief Lending Officer at Patelco Credit Union, discusses the huge opportunity to differentiate through exceptional experience, and through strong relationship management throughout the borrower life cycle.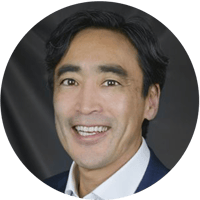 Richard Wada is the SVP and Chief Lending Officer at Patelco CU. His focus lies on executing on a multi-year strategic growth plan to drive increased scalability, efficiency and service excellence to the membership. Prior to joining Patelco, Wada served as director of global unsecured lending within Citigroup's global consumer group across four regions and 17 countries. Previously, he held various roles within Citigroup tied to marketing, product strategy, business development and business transformation. Wada has a Bachelor of Arts degree from Williams College and a MBA from Columbia Business School.

Dublin, California based Patelco Credit Union is a not-for-profit credit union with more than 400,000 members primarily in and around northern Californi., Patelco is committed to improving their members' financial well-being and fueling hope and opportunity for its members by offering personalized solutions, advice, and expertise that empower them to achieve personal financial freedom. Founded in 1936 with $500 in assets by employees of the Pacific Telephone and Telegraph Company, Patelco is in the top one percent of U.S. credit unions with more than $8 billion in assets.
How solid relationship management can be a competitive advantage

Promoting the financial health and well-being of members

How referrals can drive deeper product engagement than traditional acquisition

Having access to members versus self-directed engagement
Financial institutions have long commoditized consumer lending, managing to overlook potentially pivotal opportunities to expand business and grow in innovative new ways.
Banks and fintechs alike have historically depended upon volume, packaging and distribution tactics to differentiate themselves from other loan providers.
Exceptional Experiences
According to Wada, the most fundamental step for differentiating your organization is to perfect the origination process.
Nothing deters prospective clients more than a complex, archaic account-opening experience.
By removing conditional approvals, multi-verification, and in some instances, employment and income verification, you streamline the digital account opening experience. It also gets prospects in the door faster and promises easy access to future services for existing members.
An exceptional experience, according to Wada, also involves a better direct-to-consumer model which prioritizes reaching the right borrowers with the right offers at the right time.
"We're not hassling our members or prospects who have absolutely no need for the product," he said, which makes for a much better overall digital experience.
Relationship building through financial wellbeing initiatives
Patelco's #1 priority is the financial success and wellbeing of its customers, which is why they're known to have a loyal, long-lived customer community.
When your customers believe that you genuinely have their backs, they stay.
Patelco promotes financial wellbeing through their services in a variety of ways:
1. Building credit
Using a custom relationship score for existing members, Patelco is better able to measure and identify which services certain members should receive to help them access aid and build up their credit.
With this integrated into their risk model, the credit union is also able to provide higher lines of credit to promising customers, giving them the opportunity to gain more financial aid while continuing to improve their credit score.
2. Changing savings behaviors
Patelco designed the Level Up program to incentivize their customers to better manage their savings and payments.
Payroll and credit tracking systems are handled by the program, which offers customers help and ensures payments are made on time.
By rewarding customers with basis points every twelve months for good payment behavior, it encourages them to make payments on time, and ultimately, saves them money.
3. Providing payment options
Another way the credit union enables financial success is by providing a number of easy payment options to their members.
From in-branch, to dial-in, to quick one-time digital payments, to automated ones, there is no shortage of options.
4. Planning with hardships in mind
If the COVID-19 pandemic has taught us anything, it's that life happens and payments can't always be made on time.
Patelco created an accounts solutions team that is sympathetic to times of financial uncertainty and aims to help customers strategize a personalized payment plan that works for them.
Membership growth
Patelco has seen an 8% increase in new membership each year and ranks #1 for growth in their peer group.
What do they attribute it to?
A friend referral program has garnered a majority of the new customer base Patelco has seen over the last few years.
"People remember how you treat them when they need help," said Wada,and if you treat them well, they become brand advocates.
The credit union believes that their growth has much to do with brand momentum around their promise to have their members' backs.
"Customers become the greatest advocates," he continued. They procure new clients because people trust the opinions of their friends.
And there was an unexpected bonus: these new member-referred customers had a stronger participation level with the institution's ancillary products.
Patelco is paving the way for banking institutions to harness the power of financial wellbeing. It's a win-win strategy — make an impact on their businesses and on the lives of their consumers.