Leaders in Lending | Ep. 39
Leveling the Playing Field: How Community Banks Can Use AI to Achieve Personalized and Socially-Responsible Lending
In this episode, Nitin Mhatre, CEO of Berkshire Bank, discusses the importance of combining automation with personalization and how community banks can go beyond the baseline expectations to facilitate more environmentally and socially-responsible lending.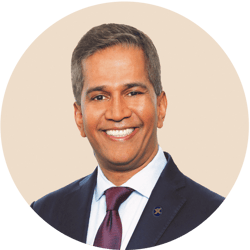 Nitin Mhatre joined Berkshire Bank as Chief Executive Officer and a director in January 2021. He was previously Executive Vice President, Community Banking at Webster Bank, where he was a member of Webster's executive team and led its consumer and business banking businesses. Prior to joining Webster, he spent more than 13 years at Citi Group in various leadership roles across consumer-related businesses globally. He served on the Board of the Consumer Bankers Association headquartered in Washington D.C. since 2014 and was Chairman of the Board from 2019 to 2020. He also serves on the Board of Junior Achievement of Southwest New England headquartered in Hartford, CT.

Berkshire Bank is transforming what it means to bank its neighbors socially, humanly, and digitally to empower the financial potential of people, families, and businesses in its communities as it pursues its vision of being the leading socially responsible community bank in the markets it serves. Berkshire Bank provides business and consumer banking, mortgage, wealth management and investment services. The Bank has approximately $11.8 billion in assets and operates 106 branch offices in New England and New York. Headquartered in Boston, Berkshire Hills Bancorp (NYSE: BHLB) is the parent of Berkshire Bank.
Combining digital and human touchpoints
The importance of a connected front, middle and back-office
Improving financial literacy
How to measure environmental and social responsibility
Frictionless and personalized are the words for the new banking paradigm.
As AI continues to push the boundaries of digital banking and uplevels the standards of customer experience, financial institutions are faced with the challenge of delivering an experience that is seamless, interactive, and in Berkshire Bank's case, socially-responsible.
On this episode of Leaders in Lending, Nitin Mhatre, CEO of Berkshire Bank, joins us to reflect on how Berkshire has been leveraging AI to reach their goals of providing the most valuable financial service possible to their community and the world at large.
We discuss:
Combining digital and human touchpoints

The importance of a connected front-, middle- and back-office
Improving financial literacy
How to measure environmental and social responsibility
Here's how they're doing it:
Omnichannel
There is still a long way to go on the omnichannel journey.
According to Mhatre, the industry still needs to focus a lot of its efforts on executing and delivering a seamless multi-channel experience before investing in AI.
For the omni-channel experience to meet consumers' expectations today, each channel should be independent of the channel the customer uses.
This means that, "the experience is seamless to the extent that you could drop off channel one, and then enter channel two, and then drop from there and go to channel three, and it's the same continued experience."
However, financial institutions have struggled to truly connect those channels.
How do you make that connection as smooth, fast, convenient and flexible as possible?
Mhatre's solution?
Make it more advice-oriented.
Going beyond what the customer is simply asking for and providing guidance on potential solutions and how together, we can optimize your time here will be the real differentiator for banks moving forward.
If the process is "designed to be cumbersome" according to Mhatre, then no matter what kind of technology you employ, the system will fail to provide value to the customer.
Personalization
So how do you get the system right the first time?
The banking industry has evolved to a place where it's focused on customer expectations.
Now that the standard is all about giving the consumer what they need, when they need it, banks must start personalizing their processes.
While the pandemic has fueled the digital transformation, financial institutions are quickly learning that a human component must exist within the digitized experience.
How are banks finding the right balance between what is digital and what is high touch?
The simple answer for Mhatre: it's defined by the customer.
The customer defines how they want to interact with the bank.
Many large financial institutions have upgraded their systems to these state-of-the-art digital experiences. However, when customers inevitably get stuck and they don't have the option to make a phone call or access help through a chat, the experience falls short.
Financial Education
Part of the advisory role banks are now playing for their customers requires education.
If financial institutions aim to wrinkle out their personalized, omni-channel systems, helping their communities make the right financial decisions for themselves is one of the pillars of success.
Sometimes the first step is educating the bankers. How are customers going to get help with mobile banking if the bankers don't know how best to use it themselves?
There are many overlooked steps to educating the community and enabling them to navigate difficult financial decisions digitally.
Berkshire Bank is well on their way to educating the masses by making efforts to familiarize the consumer base with financial literacy.
Financial Literacy
How can we expect the average American consumer to make smart financial choices when we haven't given them the tools to understand how to make those choices?
To help solve this challenge, Mhatre has offered support to an initiative to increase the financial literacy curriculum within the national school system.
"Half the Americans can't afford to bear $500 of emergency expense," claims Mhatre, "we are the greatest nation on the planet and we are struggling financially because there is no real good source for advice for many of our consumers in the country".
Banks are in a wonderful position to deliver that advice seamlessly to customers because they're trustworthy establishments that value and prioritize relationships.
Berkshire has taken advantage of that positioning and launched an exciting strategic transformation called "Best Community Come Back", a plan aimed at improving customer experience and helping the community become more financially literate.
Socially-Responsible Lending
However, to truly differentiate themselves from today's financial institutions, Berkshire intends to go above and beyond consumer baseline expectations.
In addition to boosting financial literacy within their community, ensuring that there is better access to credit to those who need it, and practicing transparency in every aspect of the consumer relationship, Berkshire has made it a priority to play a vital role in lowering their carbon footprint.
How do we facilitate more lower-carbon financing? How do we practice carbon-neutrality? How do we decrease house emissions? These are some of the questions that Berkshire has begun addressing.
Berkshire's stated goal is to become the top quartile in the country on the ESG scale.
"I think we're really making good progress there. I'm really proud on behalf of all the bankers that we're making real tangible progress and making a positive difference," says Mhatre.