Leaders in Lending | Ep. 22
Fast, Easy, Simple: Improving Customer Experience in a Digital World
Mark Pregmon, GM of Consumer Lending Line of Business at USAA, joins the show to share his thoughts on why building things digitally requires a different way of thinking and why making processes fast, easy, and simple is the key to customer satisfaction.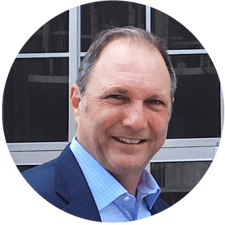 Mark is an experienced executive with nearly 35 years working in the financial services industry. After 25 years at SunTrust Bank, Mark transitioned to an EVP role at PNC focusing on consumer lending products, which led him to his current role as Head of Credit Operations at USAA where he is responsible for for Credit Underwriting, Core Servicing and Default Management for Consumer Lending Products.

Founded in 1922, USAA has a strong legacy of serving members with the highest level of care and support. They live by their core values of service, loyalty, honesty and integrity, and take pride in helping their members achieve a stronger financial future.
Maintaining focus on the quality of digital experiences

Meeting customer needs in a digital environment

Trends in consumer lending products
Maintaining focus on the quality of digital experiences

Imagine you're picking out a car insurance company. Company 1's mission statement says, "We aim to save money wherever possible." Company 2's statement says, "We aim to provide our customers with the best experience possible."

Easy choice, right? So why as companies grow larger, do so many of them tend to lean towards company 1's mission? It cannot be overstated: the customer experience needs to come first.

USAA members' experience

For publicly traded institutions, maximizing wealth for its shareholders remains a priority. As such, cutting costs such as eliminating call center employees and reducing the customer experience becomes the natural transition. However, because USAA prioritizes their members, they avoid the cost-cutting pitfall.

Mark remarks on an experience that highlights USAA's commitment to its members: while Mark and his wife were at dinner, their daughter got into a fender bender. Because Mark had left his phone in the car, he didn't notice the call from his daughter or USAA. When Mark called them back, he found out that USAA stayed on the phone for the entire 30 minutes while they waited for him— an experience that Mark, his wife, and daughter will never forget.

As the digital transformation has sharply increased competition, it's more important than ever for a company to set itself apart from others, especially those who don't have the best interests of the customer at heart — without a way to stand out to the customer, they will just move onto the next option.

Meeting customer needs in a digital environment

Tradition can blind us to more efficient processes. For Mark, this realization came when he took his daughter to open her first checking account. After everything was signed and they sat in the car, his daughter's opinion was — why couldn't we have done this all online?

Whether it is due to the COVID-19 pandemic accelerating the digital experience or just the natural progression to online, a business' online experience has to be first-rate. But do we lose anything in the process?

The human connection

Digital is helping provide a clean, efficient way to bank, but is this at the expense of the human element? Sometimes all a customer wants is to be able to talk through an issue with a person. The best way to keep both is to merge the two: providing a digital experience with the ability to have the call center assist you at any stage of the process.

Purpose-driven lending products

Unsecured loans have become more and more popular in today's world due to being purpose driven, rather than product driven. With the shift, what's the best way to help those customers when banks, historically, don't have as much experience with this type of lending?

Questions, questions, questions

With a total understanding of the customer's needs, you can feel confident with the decision to give an unsecured loan; or, while an unsecured loan might seem to be the best option on the surface, asking the customer questions might reveal other agendas: for example, if a customer initially seems interested in an unsecured loan for a singular purpose but also mentions they want to put a pool in the backyard, the entire conversation changes on the best type of loan they might need.

With customers in mind, creating a fast, simple digital experience will continue to be the focus for businesses moving forward. Only those that create a truly self-servicing digital portal will stand out from the rest.