How Berkshire Bank is driving growth & lending more inclusively through AI
Berkshire Bank CEO, Nitin Mhatre, shares his plan for Berkshire Bank to "become better, before becoming bigger". Through AI technology and fintech partnerships, Mhatre discusses how the bank is accelerating digital transformation to best serve its communities and customers and expand access to credit.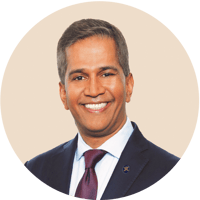 Nitin Mhatre joined Berkshire Bank as Chief Executive Officer and a director in January 2021. He was previously Executive Vice President, Community Banking at Webster Bank, where he was a member of Webster's executive team and led its consumer and business banking businesses. Prior to joining Webster, he spent more than 13 years at Citi Group in various leadership roles across consumer-related businesses globally. He served on the Board of the Consumer Bankers Association headquartered in Washington D.C. since 2014 and was Chairman of the Board from 2019 to 2020. He also serves on the Board of Junior Achievement of Southwest New England headquartered in Hartford, CT.
Berkshire Bank is transforming what it means to bank its neighbors socially, humanly, and digitally to empower the financial potential of people, families, and businesses in its communities as it pursues its vision of being the leading socially responsible community bank in the markets it serves. Berkshire Bank provides business and consumer banking, mortgage, wealth management and investment services. The Bank has approximately $11.8 billion in assets and operates 106 branch offices in New England and New York. Headquartered in Boston, Berkshire Hills Bancorp (NYSE: BHLB) is the parent of Berkshire Bank.
A bank CEO's perspective on embracing change and adapting in the modern world by leveraging technology to digitize operations
How financial well-being, customer relationships and loyalty can be fostered in a digital world
The strategy behind why Berkshire Bank partners with fintechs to drive consumer loan growth and meet the modern day customer expectations