Leaders in Lending | Ep. 81
Cultivating innovation as a traditional bank
Leisa Kinnin, SVP, Lending Product Manager at UMB Bank, shares how institutional process changes are necessary to meet the tech changes in the modern lending industry.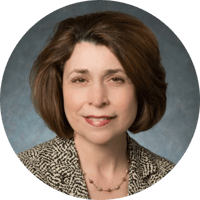 Leisa Kinnin is a proven leader with more than 20 years of experience in senior level roles ranging from Consumer Loan Product Management to Operations, Credit, and Strategy. Kinnin's passion for detail and strong customer focus has led her to several accomplishments across Consumer Loan Product Development, Consumer Loan and Mortgage operations management and Credit Risk management.

For more than a century, UMB has delivered comprehensive banking services and asset management across its eight-state footprint and national presence. The foundation of our business is building and maintaining full-service relationships based on our long-standing commitment to integrity and quality.
How traditional banks can leverage fintechs for digital experiences

Influencing decisions without a seat at the top of the org chart

Serving underserved communities
Innovation is not just about adoption of technology, it's also a change in mindset. Especially for some traditional banks that have been operating for over a decade, this mindset shift in the lending space usually involves influencing multiple stakeholders at a financial institution, from the credit, risk and regulatory sides of the business. So, how can stakeholders influence the risk averse and push for innovation, especially in today's difficult economic climate?
Our guest today, Leisa Kinnin, SVP, Lending Product Manager at UMB Bank, helped to launch a downpayment assistance program that provides help to qualified borrowers who cannot meet the high upfront costs of purchasing a home. Kinnin has spent her entire career in lending and knows this team effort requires institutional process changes to meet the tech changes she sees in the industry.
How traditional banks can leverage fintechs for digital experiences
Traditional banks won't survive the digital transformation in the banking industry unless they can adapt.
Kinnin explained, "We tend to think that we need to engineer a technology to fit our existing process, instead of realizing that you're going to have to evolve your process if you truly want to evolve your customer delivery of the product or delivery of the stellar customer experience."
Instead of trying to digitize current offerings, Kinnin advised focusing on the customer experience instead — how can the bank rethink their processes in the context of technologies to deliver the best experience?
This transition is not something a 100-year old institution can expect to accomplish overnight. Kinnin said, "The customers we serve are evolving. And we have to assume that we don't know everything. To think that we have the perfect process, and we'll just fit it into a new way to deliver the product, is probably going to be a recipe for some big headaches.
Influencing decisions without a seat at the top of the org chart
According to Kinnin, stakeholders don't necessarily need to be seated at the top of the org chart in order to make an institutional impact. "It's the hard work of showing that you're willing to get in the trenches with others and work side by side with them to learn the lessons together. It's not necessarily about being the person who has the role at the top of the org chart," Leisa said.
If bankers have something important to say, there's no need to wait until they have the right title; they just need to express their idea's value to the right people.
Serving underserved communities
Leisa and her team at UMB have worked hard to ensure credit can be extended to traditionally underserved populations through initiatives like their down payment assistance program. Kinnin explained, "Housing prices have been very unreasonable and out of reach. So we felt like it was our responsibility as an institution to step into that need and we're very proud of what we've done there."
Since the program's inception, UMB Bank has had an impressive number of application submissions — something they're very excited about as they continue to help serve all of the individuals in their communities.
Want to learn more about how Upstart partners with Banks? Check out this case study mentioned in the episode.