Leaders in Lending | Ep. 36
AI & Alternative Data: Having a Clear Idea of Your Ideal Customer
Jonathan Gagliano, EVP, GM Financial Services at Merkle, Inc. about what he sees, what works, and what to look forward to in regards to customer service for financial institutions.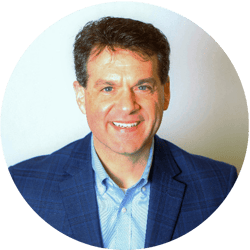 With twenty years in financial services and agency management, Jonathan has held numerous senior leadership roles in product development, marketing, business development, PR, operations, and customer service capacities. His expertise includes retail product management, audience planning, database marketing, payments innovation, and enterprise loyalty solutions. This experience provides a strong foundation for understanding customer behavior and developing strategies to drive customer acquisition and retention through multiple channels.
Currently, Jonathan is EVP, GM Financial Services at Merkle. In this role, he is responsible for managing the portfolio, establishing a differentiated value proposition, innovating capabilities, and guiding the team to ensure the strategic development and delivery of integrated solutions for each client.

Merkle is a data-driven customer experience management (CXM) company that specializes in the delivery of unique, personalized customer experiences across platforms and devices. For more than 30 years, Fortune 1000 companies and leading nonprofit organizations have partnered with Merkle to maximize the value of their customer portfolios. The company's heritage in data, technology, and analytics forms the foundation for its unmatched skills in understanding consumer insights that drive hyper-personalized marketing strategies. Its combined strengths in performance media, customer experience, customer relationship management, loyalty, and enterprise marketing technology drive improved marketing results and competitive advantage. With 12,000 employees, Merkle is headquartered in Columbia, Maryland, with 50+ additional offices throughout the Americas, EMEA, and APAC.
The right tech investments to improve the financial institution customer experience
Trends in messaging to the top-of-funnel-customer
The strategic way to measure success
Optimizing the customer experience journey
The pandemic has completely changed the way brands and consumers engage with one another.
With more competition than ever before and products becoming increasingly commoditized, financial institutions are now being faced with the challenge of creating the ultimate experience.
How can FIs start designing a truly special customer experience that stands out among the rest?
According to Jonathan Gagliano, EVP | GM Financial Services at Merkle, it's all about leveraging your tools to define your customers' true identities.
On this episode of Leaders in Lending, Jonathan joins us to discuss how Merkle is taking advantage of the opportunity and finding exciting, new ways to connect with their wide breadth of customers.
Identity
Every customer today seeks an easy, seamless, valuable and relevant experience.
However, Merkle has spent a good amount of time answering one question: what does their digital experience look like?
To support those emerging needs, Merkle's financial services team has decided to go back to basics.
One of the most foundational marketing principles revolves around the concept of consumer identity.
According to Gagliano, "people have very specific identities, interests, needs, behaviors, and those things are really important to not only understand just who to target, but what that experience should look like".
Historically, financial service companies have constructed "identities" around the customer relationship. For example, they assign a customer ID and then begin building a profile on the individual.
Digital identity is far more layered now. It's now a matter of being able to use technology and AI to identify when a particular identity visits the digital property and what they're doing on it.
Each time a customer lands on the company's website, data is collected about their interests and patterns of behavior and is then connected to their "terrestrial" or known identity i.e. their name, address, contact info.
Now that a digital identifier is attached to a known customer, it becomes easier to detect habits and interest points, making it simpler to engage in useful and lucrative ways i.e. offering a new line of credit, loans, lower refinancing rates, etc.
Data
Defining the right consumer identity would be impossible without a strong focus on improving data collection.
"Your identity solution and understanding who the individual is, is only as good as the data that you have connected to that identity", says Gagliano.
A noticeable trend is emerging in the financial world and that's accelerating those basic, addressable marketing principles, "focusing on known identity and connecting all of the data signals to a particular individual to create the right experiences for them".
Technology
Before investing in high end data technologies, Gagliano urges FIs to first take stock of the tools they already possess and determine what is usable and integratable across the ecosystem?
Technology, he believes, should be categorized into two clear buckets—platforms that curate identities and data, and those that allow users to activate that data across all channels.
Your technology should be able to connect discovered digital identifiers, session IDs, first party cookies and relationships across the broader database in order to build out a specific customer's profile.
Acquisition
So how does the digital identity solution help FI's to acquire new customers?
For most, the foundational business model is built around getting a single customer to transact multiple times with you.
The focus today, in a digitally-centered world, is applying technology to attract growth.
Building out detailed identity profiles helps achieve that endeavor in more ways than one.
With a transition to more service-oriented experiences, FI's are now using the knowledge they've collected on their consumers to better clarify what they need and when they need it.
What will it take to convert? A single or multi-product experience? A product bundle or package?
The answer to these questions requires segmenting the institution's audience, turning to their identity profiles and understanding their perspective.
For example, "if you're targeting a small business owner, there may be a lending component, there's certainly going to be a checking account component and accounts payable component, merchant services, etc. You think about it from the consumer side of things, you're going to package your products up in a way that makes more sense", says Gagliano.
These are just a few of the many ways Merkle is leveraging consumer identity strategies to better connect with and serve their customer base.