Leaders in Lending | Ep. 20
The Modern Move Towards Experiential Banking
Jim Wechsler, Chief Retail Lending Officer at WSFS Bank, shares how his bank has been transitioning to this new model and why he thinks a fintech partnership makes sense.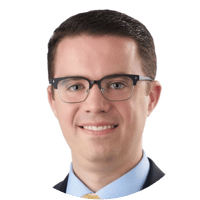 Jim Wechsler is the Chief Retail Lending Officer at WSFS Bank. With his experience in corporate development and commercial banking, he's been nurturing small businesses and budding entrepreneurs across the Delaware Valley area for over a decade. Jim has an MBA from Villanova and a finance degree from the University of Delaware.

Founded in 1832, WSFS Bank is a locally managed and beloved community banking institution proudly serving the Delaware Valley. WSFS is dedicated to financial equity for all and supports local nonprofits with grants, contributions, and sponsorships.
Why partnerships between banks and fintechs can benefit everyone

Implementation costs, process, and lending product strategy

The value of focusing on the customer experience

Investing in back end processes for a delivery transformation
The Marriage of Banks & FinTech
A few years ago, many people assumed that the rising tide of fintech would eventually overwhelm traditional banking. Behemoth multinationals with oodles of IT budget might have been able to keep up, but the small community banks would disappear completely.
This hasn't happened.
Instead, organizations like WSFS became more tech-savvy and leveraged their local market knowledge to be more competitive overall. Fintech leaders began to realize the value of working alongside banks to create a more comprehensive customer experience and a wider range of products.
Due to the pandemic, large and small institutions had to roll out mobile and digital banking options ridiculously fast, or else people were going to migrate in droves to up-and-coming internet-only banks.
But locally-minded banking has one major ace in the hole — the irreplaceable value and comfort of having highly trained staff available in brick and mortar for your vitally important transactions.
The Experiential Transformation
Today's customers crave smart money moves, convenience, and a feeling of trust. They're willing to go a bit further to an actual branch to get assistance with serious issues or big money decisions.
New technology is helping banks make the transition from being transactionally focused to offering more personalized financial advice and a much deeper customer experience.
Organizations need to interact with their customers on multiple products, but it's difficult to achieve the same level of trust in an almost purely digital world. Jim thinks it's possible if banks become ultra-convenient and consistently deliver a high-value experience.
Investing in Modern Solutions
WSFS has been wisely investing in its back-end systems for years. They are dedicated to creating modern solutions to ever improve the customer experience while enabling employees to spend less time on tedious tasks.
Jim realizes the deep importance of understanding and then streamlining your workflow. But these backend systems must be integrated and unified.
During their last three-year strategic plan retreat, the WSFS board was presented with an ambitious outline for a total delivery transformation. It was a massive investment in both the front end and back end, dramatically improving the user experience building a functional foundation for the future.
Overcoming Challenges
Early last year in the face of a looming financial crisis, the Paycheck Protection Program (PPP) was enacted. This was a unique opportunity to directly help small business owners in their time of need.
But constantly changing guidelines and customer panic caused a host of problems. Systems crashed every day.
In the end, though, it was a chance for the industry to step up and reconnect to the local communities and make a real difference. Jobs were saved through the funding received.
Adapting to remote work methodology during the pandemic also presented some roadblocks, but these lessons learned are positively impacting policy improvements.