Leaders in Lending | Ep. 07
Taking Advantage of Data to Give Customers a Choice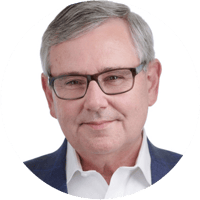 Jim Deitch has 30 years of experience in commercial banking, having served as President and/or CEO of five banks and having founded over a dozen successful businesses. His focus is on mortgage banking profit intelligence, capital markets and mortgage banking technology. He is the author of three #1 Best-Selling Amazon New Releases about mortgages and digital mortgage transformation.

Teraverde Management Advisors
Teraverde Management Advisors is a leading provider of high-end mortgage solutions, offering innovative, flexible mortgage consulting and related software solutions to clients. Teraverde's mission is to help clients transform operational performance, and throughout a decade of existence, the company has helped hundreds of clients through major challenges in the mortgage lending and banking industries.
The strategic advantage banks and credit unions have in lending

Why many banks and credit unions don't use the opportunity

How banks and credit unions can define the best way to innovate

The transformational power of offering customers a choice
The Strategic Advantage Banks Have in Lending
Jim believes that banks are ignoring a significant strategic advantage they have over others in the lending space.
Unlike their competitors, banks have a preexisting rapport with customers. Because of that relationship, they also have access to a treasure trove of customer data. And many are not utilizing it on both sides of the balance sheet — the lending side and the deposit side.
Jim thinks more banks should be thinking expansively about how they can leverage their resources across all of their silos — mortgage lending, consumer lending, automobile lending, indirect lending, small commercial real estate, and the deposit side — to grasp the whole consumer balance sheet and build a lasting customer relationship.
"Technology can really enable that," he says.
Why They Don't Take That Advantage
Many banks have lagged behind when it comes to holistically pooling data resources in a way that makes them accessible to new projects across the organization. Jim brings up 3 reasons for that:
1. Legacy Systems
"Banks traditionally have a lot of legacy systems to navigate," he says. Until recently, that data has oftentimes been difficult to access.
Nowadays, there are a lot of tech providers that can layer on top of legacy systems to grab that data and operationalize it.
2. Banks Don't See Themselves as Innovators
Many banks don't make big strides towards adopting new technologies because they don't see themselves as innovators.
But given their ability to study their customers and truly serve them in new and more convenient ways, they can absolutely be innovators, according to Jim.
3.Worried About Being Rate Competitive
"Some of my favorite banks say we can't be rate-competitive because we don't necessarily have fill-in-the-blank," says Jim.
But it's all about the value you bring.
Jim brings up bottled water as an example. Bottled water costs $1 and people buy it despite the fact that water is free from the tap. Why? Because it's convenient, accessible, and easy to use. People see value in it.
That's the way banks should reframe their thought process. How can you take the friction out and make the process more convenient for customers? Because generally people are not as price-sensitive as you think if you can provide that layer of value.
Choosing When and Where to Innovate
The technologies allowing banks to innovate their offerings already exist. According to Jim, it's just about getting a group of people into a room to discuss which ones to adopt and next steps that need to be taken.
Many institutions have had success with forming small divisions to test new ways of doing things.
"It's amazing for some of the clients that I've worked with and some of my peers, what they've been able to do simply by saying, 'Let's take a group of people and just see what they can do with this,'" says Jim.
That success is also owed to the fact that many technologies are bolt-on and have already been proven as viable.
It's an incredible time for banks to explore the whole ecosphere of different systems to see what makes sense for them and what will allow them to better serve their customers.
Offering Customers a Choice
One key differentiator that banks and credit unions have when it comes to lending is giving customers a choice.
When customers go to a mortgage broker, they don't have a choice.
"The choices are here's the rate, here's the rate, here's the rate, and we're going to equally abuse you hard on all those rates," says Jim.
With the enablement of technology, banks and credit unions can give customers a suite of options.
And that is the key to building relationships with consumers. You are not pushing a product. You are asking what they want to accomplish and giving them choices to help solve that. That hyper relevance is where the true power of data lies.