Leaders in Lending | Ep. 76
Tapping into Underserved Homebuyers with Co-Ownership
Eric Chebil, Founder and CEO of Cher, enables underserved homebuyers and renters looking to co-own a home.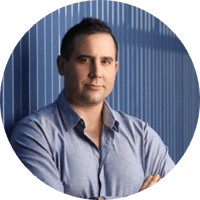 Eric Chebil has over 10 years of experience in real estate including managing teams and projects while working for top global general contractors including Kiewit and Swinerton Builders, and brokering real estate homes at Christie's International and mortgage loan originations at Chebil Realty. Chebil has a background in the fields of engineering, general contracting, construction management and green building consulting. His credentials include a California Bureau of Real Estate Broker's license, mortgage loan originator's license and certification of LEED AP BD+C status. Previously has founded Chebil Realty managing several Realtors, Eric understands and lives in the housing crisis firsthand in LA.

Cher® is the first real estate digital concierge helping renters earning low to moderate income achieve homeownership. Cher streamlines the process of shared homeownership where buyers co-own, co-live and share both the costs and equity in a home. Cher's
services provide financial literacy, hands on support, accessibility to competitive loan products, data feeds to thousands of homes, connections to local real estate agents, educational resources, and opportunities to meet other prospective pre-qualified buyers to co-own with or sell to. Cher's processes save first time home buyers up to $5,000 in closing costs fees through our origination process and dramatically reduces the coordination time to co-own homes.
Co-ownership as a way to serve underserved borrowers in competitive housing markets like California

How lending and other agreements work in a co-ownership model

Activating more clients for lenders- risks and rewards
In the current economic environment, finding an affordable home has become out of reach for many potential buyers. What if a realistic option was to co-own a home or property instead of pouring money into your landlord's mortgage?
Underserved homebuyers and renters who can't afford to buy a home on their own are now multiplying their buying power and making co-ownership a reality.
Eric Chebil, Founder and CEO of Cher, does all this for clients, realtors and lenders looking to co-own a home.
Co-ownership serving those in competitive housing markets
The cost of living is rising as inflation soars. This is paired with increased housing demands and a dramatic rise in home costs, placing young adults at a crossroads.
Unfortunately, with little means to combat increasing prices, many potential homebuyers are strapped, stuck in a cycle of renting or living with their parents.
Cher was founded to create an alternative to renting that would allow people to purchase their homes with flexible options. This model breaks down barriers allowing people access to the housing market that may not have been available otherwise.
Co-ownership can be especially beneficial to those in highly competitive housing markets, such as California. While a wide range of people have access to Cher's services, three main groups have jumped into the co-ownership experience:
Existing roommates that previously rented together long-term
Parents and their college student children
Impact investors that want to help underserved populations with a lease-to-own option
Even less conventional, Cher allows people to co-purchase a home with complete strangers. Chebil says, "We offer an opportunity for these first-time homebuyers to be able to call people they don't know, and it does seem like a big paradigm shift."
The co-ownership model opens entirely new possibilities for purchasers and lenders.
The function of lending and agreements in the co-ownership model
Traditionally, home-buying requires a significant down payment and a high credit score. In Chebil's words, "Home buying steps and the hurdles are challenging with a traditional lender. There's a lot of friction, and you most likely will have to have a 620 credit score or higher."
Co-ownership allows purchasers to pass over several of these traditional prerequisites, particularly when they work through Cher.
Cher offers loans to purchasers with credit scores as low as 500. They require a 3 percent down payment for purchases. However, when split between co-owners, the final figure is typically 1.5 percent each, increasing overall affordability and accessibility.
While not currently available, Cher is also developing zero-down loans for co-ownerships. These exciting new loans would require a higher credit score. But, they open up the possibility of home ownership to a population that otherwise would need decades of saving and long-term credit score schemes to be approved for a loan.
The risks and rewards of activating more clients for lenders
There are many rewards in activating this previously inaccessible group of clients, both for lenders and borrowers. However, there is also an increased risk.
Particularly when lending to those with lower credit scores and offering smaller down payments, there is always a risk to be taken. Further, there is the potential for complications to arise in the newly developing landscape of co-ownership.
But, according to Chebil, these risks far outweigh the rewards. In fact, he predicts that co-ownership will only grow from here. He says, "Co-ownership will be a dominant player as an alternative to renting."
Lenders and organizations such as Cher are changing the realty landscape by allowing people who could not afford a house on their own to join others to purchase a home together.
Instead of continuing to pay the mortgage of their landlords, young adults and underserved populations are gaining the ability to build their own wealth– something extremely powerful in the inflated economy.
Stay tuned for new episodes every week on the Leaders in Lending Podcast.