Leaders in Lending | Ep. 06
How Community Banks are Building a High-Touch Digital Experience
In this episode of Leaders in Lending, we talk with Danny Pogue, President of Commercial Retail and Small Business Sales at Midwest BankCentre, about the future of digital transformation in banking.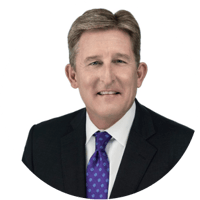 Danny Pogue is the President of Commercial Retail and Small Business Sales at Midwest BankCentre. Formerly executive vice president-commercial banking, his focus has expanded from regional commercial lending and treasury management to include consumer/small business lending and sales as well as all retail branches.

Midwest BankCentre is a values based financial institution that influences and advances communities by empowering people, enabling businesses and energizing neighborhoods. A mainstay of St. Louis community banking since 1906, Midwest BankCentre is St. Louis' second largest locally owned bank with assets exceeding $2 billion and deposits of $1.4 billion.
How to prepare employees for digital transformation

How to integrate new employees into a remote team

Effective communication tools for a hybrid environment

How Midwest BankCentre is integrating high touch with digital implementation
Digital Is Here to Stay
In this evolving digital age, Midwest BankCentre's goal remains consistent: make things convenient and agile for their customers and deliver efficient financial services to their customer base.
There's a misconception that digital acceleration means that all interactions become digital and that human interactions are replaced by technology. While some customers want to have full digital capability to bank wherever they're at, many still want to come into the bank. Banking is still a fundamentally relational business.
To adapt to digital transformation, organizations should begin by investing in platforms that actually deliver on things clients want or need. Ideally, banking remains high touch, high relationship oriented, and continues to find ways to offer digital options that so many clients are wanting. Banks that can adopt the right balance will set themselves apart from their competition.
Becoming a Better Consultant
Rather than seeing technology as a threat, professionals in banking should see it as an opportunity to be a better consultant for the client.
Technology frees up time to be able to act as an advisor for the client because they can fill out their own application digitally, freeing up time for advisors to discuss types of products, pricing, etc. to help them both personally and with their business.
Preparing Employees for Digital
How can leadership prepare employees for digital transformation?
Training employees on digital transformation is critical to organizational success. Employees should be aware of client questions that may come up, and be able to offer suggestions about various topics, from fraud to types of products.
Leaders should also continue to look at how to engage employees in hybrid work environments. There are two things to implement to maintain team camaraderie in a remote environment. First, organizations need to ensure their employees have the right technology. Second, they need to over-communicate, meaning the more meetings across departments, the better.
The Future of Digital Banking
Over the next decade, the digital landscape for commercial banking will look very different, and those who don't shift and adapt to meet digital demand will be left behind.
Because Midwest BankCentre is a community bank, several clients still want to see advisors in person. That's the case for most banks, which means no bank should forsake relationships for digital interaction, or vice versa. They really do work together. Meeting people where they are, no matter how they want to meet, is extremely important.