Leaders in Lending | Ep. 02
Digitizing for a More Relevant Banking Experience
It's not necessary to give up the fundamentals of banking in order to bring innovation to the industry.
In this episode, we speak with Cathy Myers — Executive Vice President at First Financial Bank with 37 years of experience in the industry — about why we should view "digitization" simply as a modern extension of traditional banking practices.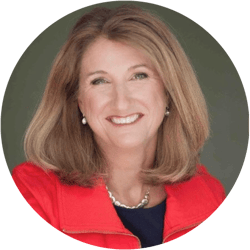 Cathy Myers is an EVP at First Financial Bank. She leads the consumer division

and runs the retail branch distribution group as well as mortgage, consumer, and small business lending. She's been in the industry for 37 years, and is driven by her passion to help consumers and loves finding unique ways to make a positive difference in their lives.

First Financial Bank, based in Cincinnati, Ohio, was founded in 1863 and operates across Ohio, Indiana, and Kentucky. The company has ~$16 billion in assets, and provides banking services across commercial, retail banking, investment commercial real estate, mortgage, commercial finance, and wealth management. They are "hometown dream builders," and are insistent on improving lives with a dedicated commitment to the community.
Staying true to the fundamentals of banking while driving innovation
Leveraging data to personalize customer offerings
Integrating digital capabilities with a human advisor, and the changing nature of the in-branch experience
Considerations when choosing innovative partners
Consumer Lending Misconceptions
Today, there is one thing that all banks have in common with one another. It's the concept that we are all battling to stay relevant in our consumers' minds.
There are a multitude of different ways to tackle this challenge, but if one thing is clear, it's that you do not need to sacrifice innovation for fundamentals or vice versa.
In fact, if you do choose to sacrifice, chances are you will be left behind.
Innovation with Fundamentals
Since we have already gone over why innovation and fundamentals are not mutually exclusive, let's talk about how you can marry the two together for consumer impact.
To set the scene, it is important to recognize everything in banking begins and ends with the consumer in mind. One of the best ways to understand them is through data.
Consumer data points in banking can lead to various insights around whether they manage their financial wellness, how they do so, what their perspective is on savings, and more.
Understanding clients through data may seem like an impossible and impersonal task, but if you use the 5 Cs of Credit framework, you are able to holistically understand the unique human in front of you.
5 Cs of Credit for Data Insights
1. Character
Think of evaluating the character of your client as looking at their adult resume. This would include their credit score, payment history, and rating given from agencies such as Experian, Equifax, or TransUnion.
A good rule of thumb is — a high score means lower risk for lenders.
2. Capacity
Measuring capacity is quantifiable by looking at clients' income, employment, and any outstanding debt they may have in the form of credit cards, loans, or mortgages.
An industry standard is using the DTI (Debt-to-Income) Ratio. This can help lenders gauge how much a client could repay versus defaulting on the loan.
3. Collateral
This is what the client could promise as a security backing for the repayment of a loan, typically something of high value such as deeds to land or financial assets such as treasury bonds.
4. Capital
Another way of saying, 'What assets does this client have?' Capital is typically seen as liquid investments, savings, or high-worth items.
5. Conditions
Lenders want to be able to access their risk based on how borrowers plan to spend the money. There are also outside conditions like how the economy is doing, what the interest rates are, and any specific rules.
Lending becomes riskier depending on what is being bought and the timing.
Digitization and Client Advisors
Moving forward with those insights, you then have the ability to automate a lot of the heavy lifting if you understand your customer and who you are serving.
A good example of this is automation when clients apply for credit cards, mortgages, or loans.
In some cases, you are able to apply and be automatically approved for thousands, if not tens of thousands, of dollars worth of loans in minutes.
While this is efficient, there is a strong need for transparency and client advisors to help educate and support clients on their unique financial journeys.
The Need for Transparency
Let's face it, banking and financial acumen are complicated to understand if you are not well-versed in the subject matter.
Try going up to strangers on the street and ask them if their credit card has fixed or variable rates. Chances are they will look at you like you are speaking a foreign language.
This is and has been a pain point for clients across the globe, and as an industry, we can do better.
It is critical that we are transparent with clients and clearly communicate the financial tools we provide so we can be lifelong partners. The first step to being transparent is through understandable marketing that is quick and easy to read.
Next comes in the client advisors.
Being a Trusted Client Advisor
As digitization continues, more financial institutions are offloading process entry work with digitization and turning branch staff into client advisors.
Through training and a human-centered approach, clients can walk into banks and know they have support to make smart financial decisions that once seemed overwhelming.
By having client advisors there, consumer banks are shifting a transactional narrative into one that is relationship-centric and long-lasting.