Leaders in Lending | Ep. 98
How a $4.5B Credit Union Maintains a Direct Line to Members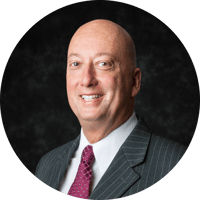 Under Foulke's leadership, American Heritage has grown to be one of the top 100 credit unions in the United States by members, and has recently been recognized as the #1 credit union in Pennsylvania by Forbes. He was recently named a Top CEO in New Jersey by South Jersey Biz. Foulke was a Director of the Pennsylvania Credit Union Association from 1986 to 2005 and served as Chairman in 1999-2001. He also served as Vice Chairman and Treasurer of the Pennsylvania Credit Union Association, Treasurer of PACUL Services, and Chairman of the Budget, Project Moonshot, Personnel and Annual Meeting Committees. In addition to his other credit union related activities, Foulke also founded and serves as Chairman of the Kids-N-Hope Foundation, a charitable organization which raises funds to provides support for Child Life Services, specifically, Musical Therapy at the Children's Hospital of Philadelphia and other local hospitals within American Heritage's Workplace Partner Program.

American Heritage Federal Credit Union
American Heritage Credit Union is a member-owned financial cooperative with more than $4.5 billion in assets serving more than 800 Workplace Partners and more than 280,000 members, with more than 35 locations across Philadelphia, Bucks, Montgomery, Delaware and Camden Counties. Founded in 1948, American Heritage Credit Union is now one of the top 75 largest credit unions in the United States. Additionally, American Heritage is consistently recognized as a Best Place to Work and Top Credit Union by regional business journals and chambers of commerce.
Foulke's experience through 55 credit union mergers

Maintaining a direct line to the members (even as a CEO)

American Heritage's employees' charitable work and Foulke's efforts to assist Ukraine
Credit Unions are already known for their personal service, but what happens when you double or triple in size — does bigger need to mean less personalization?
Recently named American Bankers Credit Union Executive of the Year, Bruce Foulke, President and CEO of American Heritage Federal Credit Union, shared his insights for retaining personalized service during times of growth.
On the latest episode of Leaders in Lending, Jeff and Bruce discuss:
Foulke's experience through 55 credit union mergers

Maintaining a direct line to the members (even as a CEO)

Making a difference with more than numbers and dollar signs
Navigating 55 credit union mergers and scaling personnel
Growing an organization from four employees to hundreds is no simple feat — it takes determination, resilience and creativity. All of which are characteristics Foulke possesses in spades.
When American Heritage Federal Credit Union was in trouble, he wasted no time.
"I went out into the marketplace looking for a merger partner — I went after other credit unions to try to merge with me. I've done 55 mergers over the years." Foulke explained.
Those credit unions may have been small on their own, but as a collective, it was enough to propel the organization forward. "If you add them all together, it's not even going to be 200 million. We're four and a half billion now, with 725 employees working for us," he said.
With these mergers came stability, and it opened the door for continued growth.
"When I first started, I went out and solicited everybody," Foulke said. "I was the PR guy, the marketing guy, the loan officer. I was out soliciting people to join the credit union — I knew how to sell this credit union better than anybody else."
He found success in his endeavors through a couple of key tactics:
He went where the right people were — healthcare and the federal government

He leaned into one of the credit union's chief differences — no surcharge at ATMs
"I knew I had to do something different. So we never surcharge. People come to us because we don't have a surcharge in the hundreds of ATMs we have," Foulke said.
Maintaining a direct line to the members (even as a CEO)
Finding direct lines to CEOs is a rare practice. More often than not, it's tricky to find a reliable email address, let alone a phone number with a real person on the other end at that level in the organizational hierarchy.
"I wanted to have a 'contact the CEO' button so that anybody can call me or talk to me when they want to," Foulke said. "And I return every single email, personally, and I give them my personal direct phone number here at work."
He may only get one call a day, but the ones he does receive prove the merit of direct communication. That way when a member is stuck in Paris with a credit card that won't work — as was the case in one memorable instance — they know they can call the CEO and get through and that Foulke will help them resolve it post-haste.
Incorporating technology while maintaining the human element
For Foulke, technology is the cherry on top for interacting with members, not a replacement for real human interaction.
"We rolled out VANTA two years ago — which stands for Video Advisor Network Associates — we made a commercial announcing it to the press that, 'Hey, you want to talk to a live person, go on your iPad, find the number, and push the button on your American Aid website, and you'll get a live person to talk to you,' You gotta have that bit of personal experience," Foulke said.
Making a difference with more than numbers and dollar signs
American Heritage does not sit on the sidelines, nor does Bruce Foulke. As important as human interaction is within the credit union, the same is accurate for impacting the community and spearheading change.
"We were the first credit union to roll out a not-for-profit charitable organization called Kids-N-Hope 27 years ago, and we raised $3 million for Children's Hospital of Philadelphia. We pay for the music therapy program down there," he said.
Their efforts in the community are not only American Heritage writing a check — they spend time at the facilities volunteering with games and enrichment and forging connections with the children.
For Foulke, staying active in the community and giving back is non-negotiable. He advances that narrative as often as possible through the same resilience and determination that saved American Heritage from the brink of going out of business.
Stay tuned for new episodes every week on the Leaders in Lending Podcast.