Leaders in Lending | Ep. 96
Data Driven Strategies For Challenging Economic Times
In this episode, Barry Roach, Senior Account Manager at Upstart, shares his particular outlook on the macro economy and what this means for strategic moves lenders can make to gain a competitive edge.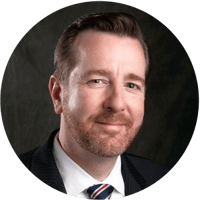 Barry Roach is a Senior Account Manager at Upstart. With over 30 years of experience in the financial services industry, he previously served as President and CEO of Water and Power Community Credit Union ($929M) and President and CEO of SafeAmerica Credit Union ($439M). Roach launched his career in Canada where he obtained his Master of Business Administration in Financial Services. Mr. Roach spent twenty years with Canadian Imperial Bank of Commerce (CIBC) in progressive positions focused on implementing national sales and marketing programs before he was recruited to Meriwest Credit Union, where he headed the Retail Delivery group and established new member service activities and leadership principles that stimulated business growth and process efficiencies.

Upstart is a leading AI lending platform provider that partners with banks and credit unions to help them grow their memberships and expand access to affordable credit. By leveraging Upstart's all-digital, AI lending platform, Upstart-powered lenders can grow consumer loan portfolios, lend to more creditworthy borrowers safely, and deliver a modern, all-digital experience for their members that allows them to originate loans in minutes. Over 70% of loans funded are fully automated with no human interaction.[1]
Why despite digital banking's efficiency, branches are still here to stay

Data-driven strategies

An optimistic outlook for overall growth
Fears of a recession, tech layoffs and high interest rates are still with us in the new year. But what's different now and how can lenders use the economic moment to gain a competitive edge with consumers?
This year we are bringing back guests to test how well their bold predictions have held up in recent months, and to see what other insights they have on the macro economy for the year ahead.
In this episode, Barry Roach, Senior Account Manager at Upstart, shares his particular outlook on the macro economy and what this means for strategic moves lenders can make to gain a competitive edge.
Join us as Jeff and Barry discuss:
Why despite digital banking's efficiency, branches are still here to stay

Data-driven strategies

Barry's optimistic outlook for overall growth
Efficiency vs effectiveness in the banking experience
There's no doubt that digital banking is faster than waiting in line at a branch.
It's also safer because people don't have to carry large sums of money to make their deposits.
But is "faster" better? Is it really the only way that people want to transact?
Roach's updated perspective is that walk-in branches aren't going anywhere: "There's still going to be a need for branches. There are still services and reasons for which people need to use cash — and that's the other bold prediction — cash isn't going away anytime soon."
There's a time and place for everything
When you haven't yet decided on what product you're taking or what function or task you need to perform, speaking to a knowledgeable staff member at a branch can put your mind at ease and help you make an informed decision.
Once you get through the early stages and want efficiency more than you want knowledge and recommendations, a digital platform can save you precious time.
Roach uses the example of taking your child to apply for an auto loan. You may want to research and compare options from several banks, via branches, and eventually submit your application through a digital portal because it's faster for you to type than physically write down your credentials on paper-based forms.
"I can still speak to someone over video chat," says Roach, "but there's something about going down there to open that first savings account or speak to an investment representative about how I'm going to save for retirement."
Data-driven strategies
When creating a data-driven strategy, it's important to know what information you should build that strategy upon.
Roach's newfound optimism is largely based on data he examined in housing and consumer markets.
"I don't think that the recessionary fears that we have right now are going to actually come to pass," says Roach.
In what he deems a bold prediction for 2023, Roach shares his view that the economic situation won't be as bad as we think.
Aware of what he calls the "tech-cession" as a result of major tech brands laying off thousands of employees, Roach says a source within his network confirms that many people are still looking for new roles and opportunities as a way to improve their skill set rather than as a way to survive.
The numbers don't lie, either. The net rate of growth is positive.
Roach cites tech firms that have hired and retained more employees than they have laid off: "I think we're going to go back to a more normalized economic cycle. Even if there is a little bit of a recession, I think we're all going to be okay."
Advice for the road ahead
Before sharing generic advice, Roach was careful enough to recognise the ties that bind some players in the market to liquidity. From what he can see, he wonders whether:
The market is ripe for locking in higher loan yields

Higher yields will help overcome elevated risk

The slowdown in the housing market is offset by sustained demand for cars and other goods (as well as credit products)
Motivating his opinion on locking in high yields, Roach says "there's always an advantage for financial services players who are first back in the market because customers are looking for that loan. You've got an opportunity to win business and loyalty when you're the first one out there, making the offer. You can go out and compete in a slightly less competitive market if you are a little faster to react, than the next guy."
Why so optimistic?
Integral to Roach's optimism is Upstart's tangible data. Rather than speculating, a data model was created and leaned on in response to queries over macroeconomic risk.
Leveraging data in one's approach allows for more accurate scenario planning while respecting that we can't really predict the future. We all know that if this was possible, we would have been far more prepared to tackle the pandemic than we actually were.
We'll just have to wait and see how Roach's latest prediction plays out and call him out again this time next year to see if he's on the money.
Stay tuned for new episodes every week on the Leaders in Lending Podcast.