Leaders in Lending | Ep. 16
The Evolution of Credit Unions in a Digital World
Barry Roach, President & CEO at WPCCU, talks about how credit unions are pivoting to meet the challenges and opportunities of a digital world.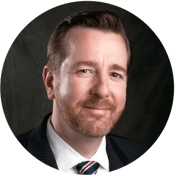 With over 30 years of experience in the financial services industry, Barry Roach has proven leadership of large, diverse, multi-faceted teams of financial professionals that deliver above-market financial results. Previously, as President and CEO of SafeAmerica Credit Union ($439M), Mr. Roach helped the organization achieve a significant net income turnaround and improvement in financial strength while maintaining a commitment to service excellence. Barry launched his career in Canada where he obtained his Master of Business Administration in Financial Services. Mr. Roach spent twenty years with Canadian Imperial Bank of Commerce (CIBC) in progressive positions focused on implementing national sales and marketing programs before he was recruited to Meriwest Credit Union, where he headed the Retail Delivery group and established new member service activities and leadership principles that stimulated business growth and process efficiencies.

Water and Power Community Credit Union (WPCCU)
Water and Power Community Credit Union (WPCCU) was formed in 1936 by 10 employees of the Los Angeles Department of Water and Power (LADWP). In 2001, WPCCU became a community credit union, allowing the organization to serve people who work or reside in the City of Los Angeles and surrounding communities. Today, the credit union serves 35,000 members and has over $630 million in assets.
What makes credit unions unique

Gaps driving new kinds of lending

The value of loyalty and how to maintain it

The importance of data in decision making
As we move toward an increasingly digital age where people uproot and relocate routinely, it's become integral for banks to meet their customers' specific, ever-shifting needs.
Credit unions are at an especially unique advantage to exceed new banking expectations and even perhaps outperform traditional financial institutions.
What makes credit unions unique
What gives credit unions a competitive edge over traditional legacy banks is its community-based nature.
Already catering to a small, targeted consumer collective, credit unions are able to more easily tailor-fit services that their customers trust and value.
For example, credit union consumers can access specialized financial advice online far more easily than they could through a larger bank. By creating a digital experience that's as personal and useful as an in-branch experience, credit unions are better equipped to meet those changing customer needs.
New lending opportunities
More than ever, credit unions are perfectly positioned to help consumers make smarter, more intentional lending decisions.
Tapping into the unsecured personal lending market has solved for the needs legacy banks have historically refused to meet.
Credit Unions have cultivated a huge advantage for this reason—by abundantly providing the unsecured loans their customers want, they destigmatize the need and foster an unwavering relationship of trust.
Maintaining loyalty
Retaining that customer loyalty is another challenge that credit unions seem to have advantage over other financial institutions in a digital age.
In a highly competitive market where consumers have a wide spectrum of options, proving continued, superior value can be difficult.
For credit unions, their personalized services are unparalleled.
Credit union customers stay because they receive the value they need, when they need it.
Data in financial decision-making
Credit unions, alongside FinTech, are leveraging AI to better inform their decision-making processes.
By integrating machine learning into their underwriting technology, these kinds of institutions are able to identify and supply more loans to their communities than they were able to before.
This digital culture offers credit unions vast opportunity to rise to the top of their industry and make larger impact for their communities.