Leaders in Lending | Ep. 63
Understanding Trends in Consumer Behavior: The Rise of BNPL, solar energy and crypto
Anand Cavale, EVP of Unsecured lending at Guaranteed Rate, with his varied background in engineering, banking and credit cards, shares his thoughts on the emerging trends in consumer lending and gives us background info on when the changes started.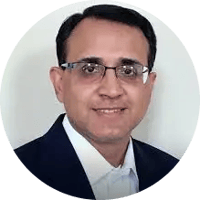 Anand Cavale is an established business executive with a strong record of driving growth across multiple global franchises. He has overseen multiple products within the consumer banking and lending space including credit cards, personal lending, student lending, small business lending and digital banking. Cavale has identified new ways to deliver financial services for improved customer satisfaction, consumer protections and overall corporate profitability.

Headquartered in Chicago, Guaranteed Rate offers a completely online mortgage experience, with both conventional and government-backed options for purchase and refinance loans. Its mission is to keep rates low while making the mortgage process more transparent and accessible. Customers can complete the process entirely online and keep track of their loan's progress with full transparency into their rate.
Rising rates on credit cards may create opportunities for personals loans
The move toward buy now, pay later and its implications
The opportunity and pitfalls of student lending
The shift towards solar energy and crypto
Amid rising rates, how are personalized loans poised to change or influence the lending landscape?
Anand Cavale, EVP of Unsecured lending at Guaranteed Rate, with his varied background in engineering, banking and credit cards, shares his thoughts on the emerging trends in consumer lending and gives us background info on when the changes started.
The financial ecosystem is changing, and Anand delves into his experiences and predictions of modern and future finances.
Personal loan opportunities are going up, just like credit card rates
Rises in credit card rates are sending some borrowers scrambling for alternative options. Others may be less likely to use credit cards. Further, many people cannot qualify for a credit card, especially those offering reasonable rates.
It's also not uncommon for people to accidentally over-borrow and charge more than they can pay in a short period, leaving them exposed to the wrath of high-interest rates and interest-saving balances that far outweigh their paychecks.
But what does this mean for personal loans?
With lower rates, more flexible payment options and a less-strict credit assessment, personal loans are a viable option for many people.
However, many individuals have historically avoided personal loans because they have a mindset that places credit card usage in the category of non-borrowing. In contrast, personal loans typically come with more extensive borrowing power.
With the increase in digitization of personal loans, this mindset is beginning to see a shift. As a result, the potential for personal loans, particularly if the ecosystem adapts to meet changing demands, is exponential.
As lenders and digital banking systems adapt to meet the needs of the modern borrower, personal loans may one day dominate the borrowing market.
Macro trends towards sustainability and what this means for securitized personal loans
Already, there is a trend toward sustainability in electrifying homes and vehicles. Whether it's an investment in solar-powered homes or a switch to hybrid cars, people are shifting their consumption habits.
While these sustainability shifts can come with a hefty price tag, they exist as a hybrid between securitized and personal loans.
Anand predicts that this trend will continue to grow, causing changes in the landscape of personal financing. These purchases are not necessarily straightforward, as they are investments that will need repayment. However, compared to a home investment like the remodeling of a bathroom, solar panels allow the purchaser to cut back heating and electricity costs, ultimately providing a securitized investment in which the home is an asset, and the investment eventually compensates the investor.
While solar will require most to borrow for its installation, it offers a plethora of benefits that are enticing to several generations, meaning that it will likely interest young investors and older alike.
Although a substantial shift, this movement towards solar and electric power is only one of many that Anand expects to progress to the forefront of tomorrow's financial environment.
A bold prediction: the downfall of bank branches
When prompted to discuss bold possibilities in the financial ecosystem, Anand addressed the lack of modern usage of bank branches.
Many of today's children have never stepped foot in a bank branch. Compared to the last generation's children that may have accompanied their parents to the bank weekly, or received a dum-dum sucker at the branches drive-thru window, much of today's essential financing occurs digitally.
Checks can be deposited via mobile phone, and funds can be easily transferred with an app or bank-to-bank online. In fact, while checks are still used, they are slowly becoming obsolete as digital payments and e-checks triumph as the easiest compensation method.
While bank branches play pivotal roles in certain circumstances, Anand predicts that the shifting financial landscape will likely adapt to meet the consumer needs currently satisfied in person on a digital platform.
The prediction of obsolesce of the modern banking branch may be bold, but it is also not to be dismissed, as many functions of the traditional branch have already been replaced or retired.